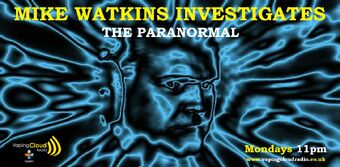 Mike Watkins Investigates is a weekly radio show first broadcast on Stroud FM in July 2012. The pilot episode featured an in-depth investigation into the conspiracy theory about chemtrails and geo-engineering. Shows have been syndicated on numerous radio stations and In August 2014 it was proclaimed as one of the world's most popular radio shows on Twitter, with around 100,000 followers.
Many controversial topics have been covered over the years, including
UFO sightings
,
crop circles
,
the moon landing hoax
,
big cat sightings
in Gloucestershire,
David Icke
,
Illuminati
,
problem reaction solution
,
moon matrix
, the
Mayan calendar
,
2012 phenomenon
, the rise of modern
Marxism
, the
hip-hop prison theory
, the
Cult of Saturn
, the
Denver International Airport controversy
,
ancient aliens
,
Erich Von Daniken
, the dangers of
social media
,
vegetarianism
, the
Deepwater Horizon oil spill
, 
global warming
,
fracking
,
tarsands
, 
genetically modified crops
,
alternative healing
,
autism
, 
music plagiarism
,
foxhunting
 and a 14 part series about the
paranormal
, which included a night-time vigil at the infamous
Woodchester Mansion
in Gloucestershire.
Investigations are not restricted to purely controversial issues. Comedians Jon Wagstaffe, Cerys Nelmes, Paul Farrar and Chad Wornfoot have all appeared on the show, as well as actor and artistic director Mike Greenman, Stroud based artist and actress Claire Rees-Jones, Cheltenham and Stroud based rock band Strange Things Frighten Us, (featuring the first interview with then drummer Oli Holbrook who later joined the punk band Milk Teeth), American 'Green Rock' duo Sassafrass, New Zealand's guitar sensation Fraser Mackenzie , producer, director, writer, actor, poet and musician Barnaby Eaton-Jones, (who has since revived Radio 4's I'm Sorry I'll Read That... Again) and the owners of independent record label Red Zebra Records. Other investigations have included documentaries about the classic TV show Doctor Who, the history of Forest Green Rovers football club, musical histories of rock legends Led Zeppelin, Queen and Jimi Hendrix and special shows on the folk/rock band Lindisfarne. and Monty Python's vinyl years. There was also a purely music orientated series, 'Rock Candy', which examined the diverse styles of rock music that have emerged in the 21st century.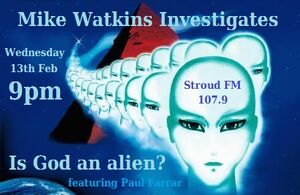 Excerpts from the Chemtrails, UFOs, 1984 And All That, The Day It Rained Pink Frogs In Stroud, Getting Sassy with Sassafrass (Part 2) and Doctor Who 50th Anniversary Special shows have been used as part of Lee Stone's Community Radio Show on BBC Radio Gloucestershire, Wiltshire, Somerset and Bristol.
The programme also has its own online newspaper and blog covering subjects investigated in each of the shows. Podcasts of all past shows are available on Mixcloud.
Community content is available under
CC-BY-SA
unless otherwise noted.